BTC/USD Unable to Break Recent High as Bitcoin Consolidates above $38K
BTC Price Fluctuates in a Range as Bitcoin Consolidates above $38K –February 27, 2022
Bitcoin bulls fail to keep the BTC price above the $39,000 high as Bitcoin consolidates above $38K. Since February 24, BTC's price has been fluctuating between $38,400 and $40,330 price levels. A strong bounce will enable buyers to clear the resistance zones. BTC/USD is trading at $38,556 as of press time.
Resistance Levels: $70,000, $75,000, $80,000 Support Levels: $50,000, $45,000, $40,000
Bitcoin bulls have sustained recent rallies as BTC price continues to fluctuate between $38,400 and $40,330 price levels. The largest cryptocurrency will be trading in a tight range as bulls continued to sustain recent rallies. BTC price will encounter a breakout if the range-bound move persists. It is said that consolidation below a resistance level increases the chances of a breakout. A breakout above the recent high will catapult Bitcoin to the next resistance level at $45,000. Alternatively, if buyers can push BTC prices above the moving averages, Bitcoin will have an accelerated upward move to the previous highs. Conversely, if they fail to break the recent high, sellers will attempt to break below the lower price range of $38,400. The downtrend will resume if sellers are successful.
Bitcoin Sinks as Putin Announces Military Operation in Ukraine
Global cryptocurrency and stock markets dropped after Russian President Vladimir Putin made a national broadcast that his army would conduct a "special military operation" in Ukraine. The army has begun missile attacks as several major cities including the capital of Kiev and the city of Kharkiv were hit by explosions. Last Thursday, February 24, Bitcoin's price dropped by 7.26% to $35,000 as bulls bought the dips. Similarly, the overall crypto market capitalization has dropped by 8.25% to $1.58 trillion. According to reports, Ethereum co-founder Vitalik Buterin, who lived the first six years in Kolomna, Russia, tweeted: "Very upset by Putin's decision to abandon the possibility of a peaceful solution to the dispute with Ukraine and go to war instead. This is a crime against the Ukrainian and Russian people. I want to wish everyone security, although I know that there will be no security. Glory to Ukraine."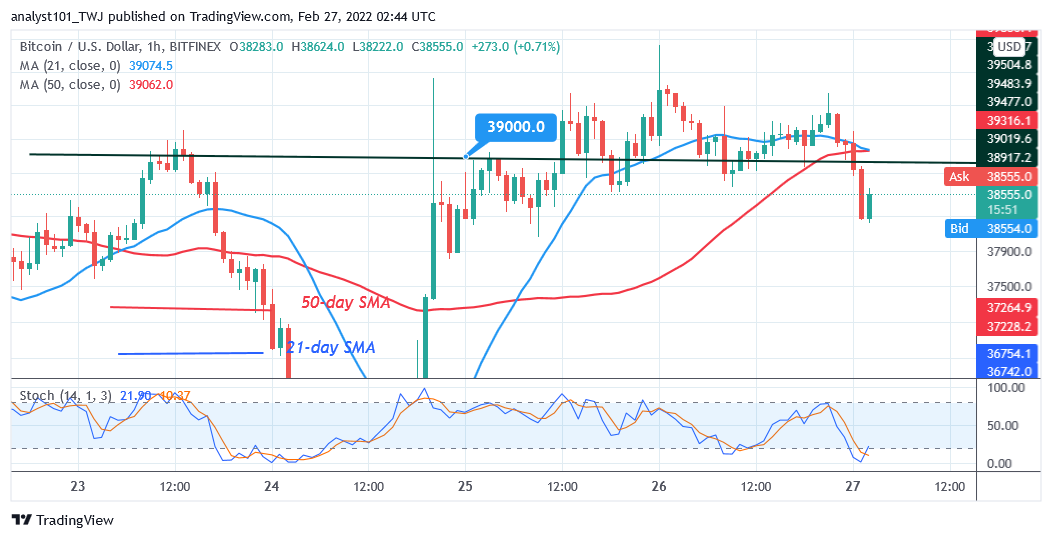 Following the recent decline above the $38,000 support, BTC price has resumed its upward move as Bitcoin consolidates above $38K. Bitcoin revisited the oversold region of the market as buyers emerge to push prices upward. For the past four days, Bitcoin has been range-bound between $38,400 and $40.330 price levels.
Read more:•                   How to buy cryptocurrency•                  How to buy Bitcoin