Make Intellectual Property Open-Source to Speed Up Development
P2E: By opening up their intellectual property to developers, Play-to-Earn (P2E) games have the opportunity to enlist new talent that can grow their market share, says Corey Wilton, co-founder of Pegaxy.
The most important asset that play-to-earn (P2E) games have isn't in-game currencies. And it isn't non-fungible tokens (NFTs), though some of them are worth a heck of a lot. The most valuable asset that a P2E game has is its community. 
And it's not just because community is the lifeblood of any P2E ecosystem on a front-end scale. Community is also the reason that people invest in P2E ecosystems; it's the reason that people build new games. And thanks to the network effect, community is also the reason that people join P2E games in the first place. In fact, the demand for play-to-earn (P2E) gaming is huge, and growing: hundreds of thousands of users have been flowing into the space at warp speed. 
Still, the demand is there – new users and investors are chomping at the bit to earn new revenue streams in the P2E world. And as such, developers and builders have an unprecedented opportunity to achieve their dreams – but there are a few obstacles that keep the barriers to entry unnecessarily high. 
P2E: To Reach the Potential, Devs Need Communities – and Communities Need Devs
Why is entering into the P2E world as a developer for the first time so challenging? The users are there, sure; but building the brand and infrastructure that supports the growth of a strong, healthy, and sustainable community takes time. And if the Ronin hack that took place last week taught us anything, it's that time and quality assurance is everything. So the challenge for developers is this: creating games that are safe and attractive to users is one thing – but how do they convince players to join the ecosystem in the first place? 
On the other side of this coin, established P2E games face another kind of challenge. In the best of circumstances, they have recognizable brands, strong communities, and strong, well-audited infrastructure. But the teams responsible for building and creating these games are a tiny fraction of the community at large – and because of this, their creative resources are limited. 
In other words, developers need access to branding and infrastructure that gives them inroads to the P2E community at large. P2E games need strong creative resources that help them build out their ecosystems. So why can't these two problems solve each other? 
But really – why not? 
P2E: Making Gaming IP "Open-Source"
Since we launched in 2021, the Pegaxy team has observed that P2E games have what game developers need: communities of users. At the same time, developers have what P2E games need: creativity, talent, and the ability to create things that expand a gaming ecosystem. The question, then, becomes about how to make these two groups meet one another. 
The answer to this question is rooted in the open-source ethos that runs through the veins of DeFi. All decentralized platforms are based on code that is openly visible, forkable, and replicable by anyone who wants to use it. We have the potential to apply the logic of open-source to the mythology of games in the P2E universe. By opening up their intellectual property (IP) to developers, P2E games have the opportunity to enlist new talent that can grow their market share.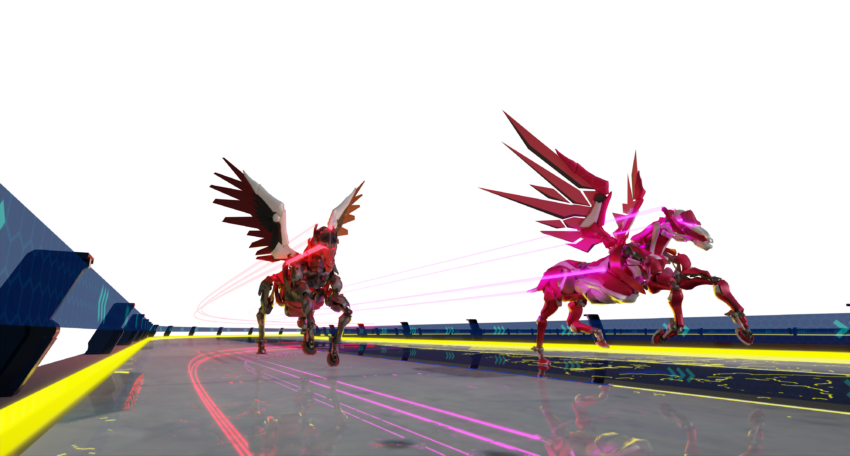 P2E: Satellite
That's why we're introducing Satellite – a program that lets developers use Pegaxy's branding, intellectual property, and token ecosystem to develop "Layer 3" mini-games. 
The inspiration for Satellite came from both Axie Infinity and Sam Peurifoy, a Pegaxy community member and Goldman Sachs Alum who also happens to hold a PhD from Columbia University. Satellite is a win-win for users and devs – our current user base of Pega NFT holders will use their tokens to play these games, which gives them the opportunity to explore both new ways of enjoying the Pegaxy ecosystem and earning new revenue streams. Simultaneously, Satellite gives developers instant access to a large, well-established user base that can play their games. 
The ultimate goal of Satellite is to "blitzscale" the Pegaxy ecosystem. It takes away the limitations created by operating with a single team – we are developing a single game, and the development cycle for that game is very slow. Finding talent to work on developing the game is challenging. But by opening up the IP, we can attract many new devs to work on building the ecosystem in new and creative ways. And eventually, Pegaxy will not be a single game. Rather, it will be a world that will contain many games, deep emotional lore (stories), merchandise, and even anime and manga – similar to Pokémon. 
P2E: Setting Communities up for Success
Growth models like Satellite create new opportunities for users and developers alike. Making intellectual property open-source in this way develops the community from both sides: users have more opportunities to play and earn, and developers have more chances to build their dreams. 
The community is the most important part of any P2E ecosystem. So let's give users and devs alike the growth opportunities they deserve.
About the author 

Corey Wilton is the co-founder of Pegaxy. Pegaxy is a free-to-play and fully-launched play-to-earn game. The game went live just a couple of months ago and has experienced massive success in a short time. Pegaxy is currently ranked as the fifth-largest P2E game by volume. Remarkably, the team built a community of tens of thousands of users starting with less than $10,000.
Disclaimer
All the information contained on our website is published in good faith and for general information purposes only. Any action the reader takes upon the information found on our website is strictly at their own risk.